1,000 Books Before Kindergarten
Maricopa County Library District announces new early literacy reading program
MARICOPA COUNTY, Ariz. – April 7 – Maricopa County Library District (MCLD) has launched a new reading program for children ages 0-6 years old. 1,000 Books Before Kindergarten challenges caregivers to read at least 1,000 books with their children before they enter kindergarten. By tracking books online at 1000books.mcldaz.org (English) or 1000libros.mcldaz.org (Spanish), children receive prizes at different milestones throughout the program.
"The years before kindergarten are a crucial time in a child's brain development," said Jeremy Reeder, Library District Director and County Librarian. "We want to help caregivers make the most of this time by encouraging them to read to their children, helping to build those important early literacy skills."
Participants receive prizes at after reading 25 books, 250 books, 500 books, 750 books, and, of course, 1,000 books. Prizes currently include stickers, jumbo pencils, a scratch-and-sniff bookmark, and a color-your-own tote bag.
"Our goal is to provide a simple and fun approach to establishing strong early literacy skills, help young children gain the confidence necessary to become strong readers, and be prepared for Kindergarten," said Lindsey Powers, MCLD Customer Experience Administrator.
1,000 Books Before Kindergarten has no end date, and will be an ongoing program offered at all 15 MCLD Library Branches. Children can be registered anytime before they start kindergarten.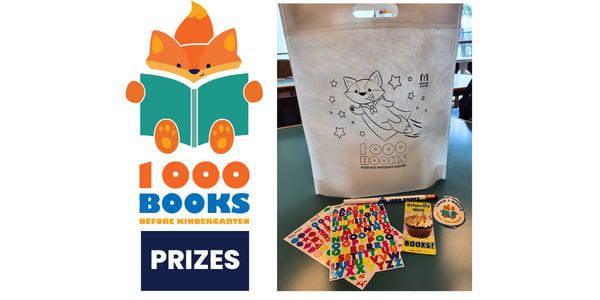 Program at a Glance
WEBSITE
PROGRAM DATES
Registration is open now and the program is ongoing
Register children anytime before they start Kindergarten
PARCITIPATING LIBRARIES
15 MCLD libraries are participating:
HOW TO EARN POINTS
Reading physical and electronic books
Listening to audiobooks
Listening to books at a library storytime
Rereading the same book counts more than once
PRIZES
25 Books:

1,000 Books Before Kindergarten Sticker

250 Books:

Scratch-and-Sniff Bookmark

500 Books:
750 Books:
1,000 Books:
Full details about the program can be found at: 1,000 BOOKS BEFORE KINDERGARTEN FAQ.
Maricopa County Library District
The Maricopa County Library District (MCLD) is a special taxing district that operates 15 libraries countywide. MCLD's mission is to provide access and services so residents experience an improved quality of life. Each year, the Library District welcomes nearly 2 million visitors, holds thousands of free events and programs for all ages, and hosts Maricopa County Reads, the award-winning Summer Reading Program. In 2022, the Library District held nearly 2,000 library events, 2,300 online events, and circulated 8.6 million physical and digital checkouts. For Maricopa County and Town of Queen Creek residents and property owners, a library card is free. For more information, visit https://mcldaz.org.