MARICOPA COUNTY LIBRARY DISTRICT ANNOUNCES NEW WAYS TO GET CONNECTED: Safe Choices for Free Wi-Fi & Technology Access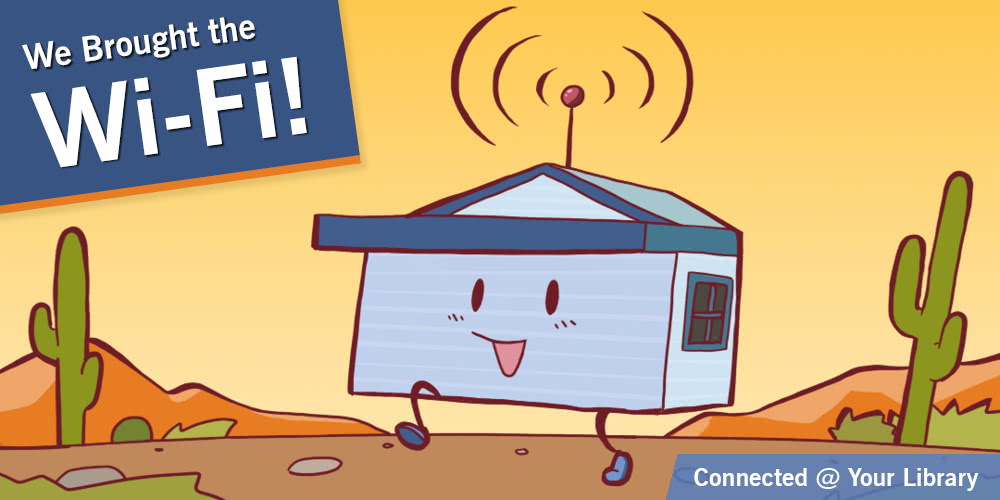 PHOENIX, Ariz. – Oct. 13 – From students to job seekers, the heightened need for access to free Wi-Fi and technology during the COVID-19 pandemic continues throughout the community. In response, Maricopa County Library District (MCLD) has launched new ways to safely connect residents to the web.
Customers can catch the free Wi-Fi signal outside of all 18 MCLD Library Branches every day from 6am to 11pm. MCLD recommends residents either pull into the library parking lot or find a place to sit outside where they can safely physically distance from others.
The Library District is also expanding its Wi-Fi Hotspot & Laptop lending program into more communities. The Hotspot kits are now available for checkout from the Gila Bend, Fairway (Sun City), Guadalupe, and El Mirage Libraries. Each kit includes a Chromebook laptop computer and a Wi-Fi Hotspot, and can be checked out for up to three weeks with the option to renew the kit five times.
"The Maricopa County Library District is dedicated to providing access," said Maricopa County Board of Supervisors Chairman Clint Hickman, District 4. "With the extended reach of Wi-Fi and the expansion of the Hotspot kits, we hope to keep our residents connected, engaged and looking to the future."
The Gila Bend Library originally launched MCLD's first Wi-Fi Hotspot lending program in June 2019 through an American Dream Literacy Initiative grant from the American Library Association. The expansion of the program will now double the current available kits in the Gila Bend community.
"The success of the first Wi-Fi Hotspot program in Gila Bend fuels my excitement to expand the program into more communities," said Maricopa County District 5 Supervisor Steve Gallardo. "I know this will allow our libraries to better serve our residents at a time when our communities need to be virtually connected more than ever before."
MCLD has identified these communities for this program based on the needs of its residents. In order to keep the kits in these intended communities, cardholders wishing to check out a Hotspot must have had their library card account registered at one of the participating branches. Customers can call (602) 652-3000 to get started. A loan agreement will need to be signed before taking the kit home.
For interviews or media appearances, please contact Samantha Mears at (602) 577-3497 or samanthamears@mcldaz.org. High-resolution library images are available for download at mcldaz.org/news.
ABOUT MARICOPA COUNTY LIBRARY DISTRICT:
The Maricopa County Library District (MCLD) is a special taxing district that runs 18 libraries countywide. MCLD inspires curiosity, encourages discovery and exploration of new worlds, and helps residents reconnect with their community. In 2019, MCLD held more than 6,700 events for all ages, nearly 83,000 children and adults participated in the Summer Reading Program, and 2.9 million customers visited an MCLD library. Maricopa County and Queen Creek residents and property owners get an MCLD library card at no cost. For more information, visit https://mcldaz.org.