About eBooks
As the information landscape changes, libraries continue to work to ensure that we can meet the needs of our customers where they are; most recently through digital books and other media. The Greater Phoenix Digital Library (GPDL) is a consortium of eight libraries who share copies of purchased digital titles. In the 2018 fiscal year, GPDL circulated 2,960,312 eBooks.
Why do I have to wait SO LONG to get my eBook?
---
It seems like digital copies of books are cheap and easy to produce. They're just digital files hanging out in the "cloud", right? Why can't more than one person access them simultaneously? If there are that many people on the waiting list, why doesn't the library buy more copies? Although it seems cheap and easy, eBooks are expensive for libraries to buy. Libraries are charged more for eBooks and eAudiobooks than their physical counterparts, and more than consumers pay – often more than double.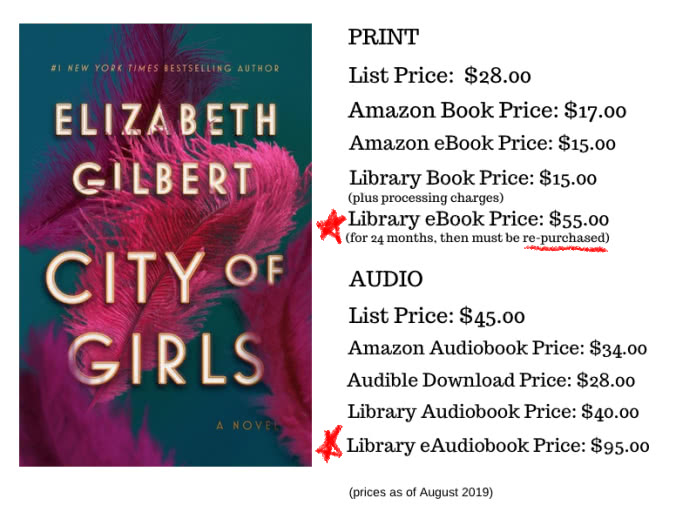 Why do eBooks cost so much for libraries?
---
For the answer to that, we have to look to the "Big 5" publishers. This group publishes close to 80% of all trade books sold in the US. These companies set the rules for selling eBooks to libraries, and place restrictions on the copies we purchase.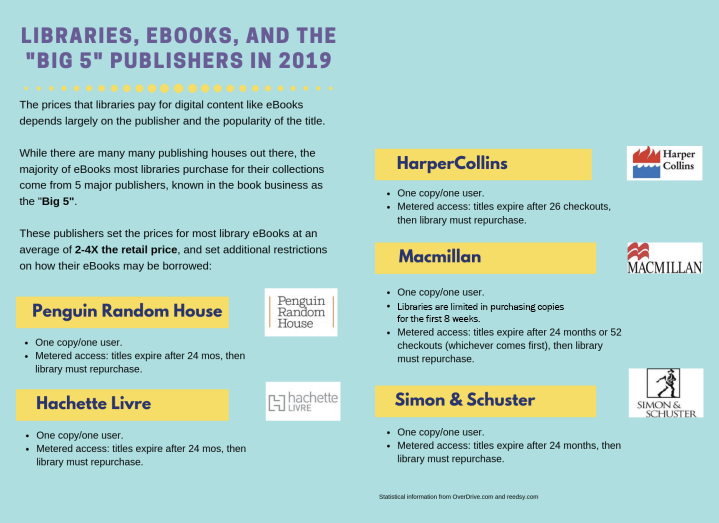 Why can't I find the book I want in the digital library?
---
As you can see, publishers place restrictions on eBooks which can limit the quantity we have available or if we have them available at all. For example: Macmillan, one of the Big 5 publishers, recently changed their policy for libraries purchasing eBooks. Unfortunately, they will not let us purchase the multiple digital copies of that book until 8 weeks after the physical book is released. One week before it's available, you will be able to put a hold on it in Overdrive. This includes popular authors like Nora Roberts, Louise Penny, and Jeffrey Archer.
What is the library doing to make this better for customers?
---
Librarians who purchase content for the digital library use the funds they have to ensure we are buying the items our customers want. Macmillan makes us wait a little longer to purchase now, but we will still buy enough copies to meet the need. Our customers just have to wait 8 weeks.
Librarians also continue to buy physical books for our customers. You have access to the physical book the day it becomes available. Visit your local branch, and ask a library staff member to help you find what you want!
What can I do to make this better for my library?
---
If you want to make your voice heard, you can sign this petition today. Let Macmillan, and the other publishers, know that you believe there should be equal access for digital titles!